Air Start Unit – Ground Operations (ASU-GO)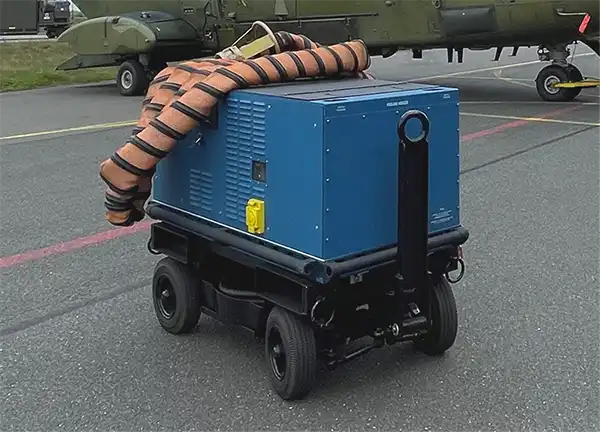 The Epsilon Systems Air Start Unit – Ground Operations (ASU-GO) has three primary distribution capabilities for rotary aircraft: Bleed Air, AC and DC Power. Our ASU-GO ("As You Go") is designed with a modular approach for simplicity of operation, reduced maintenance and maximum portability. Its design provides configuration flexibility for military applications and civilian, non-military helicopter needs. Our hangar-friendly unit is the most compact ASU available, measuring 52"L x 25"W x 25"H (132cm L x 63.5cm W x 63.5cm H) and is completely detachable from its secured 4-wheel transporter. Units have been sold domestically to government customers and internationally through foreign military sales and direct commercial sales.
Aircraft power-on capabilities
Fully automatic control system for start and operation
No tow vehicle required – highly portable
115 VAC at 400Hz, 100 amps
28 VDC at 200 amps
Bleed air capability, maximum 59 PPM
For more information, please contact:
Product Highlights
Logistics Support
By utilizing common, logistically supported – National Stock Numbers (NSNs) – aircraft parts, our ASU-GO provides maximum logistics commonality with rotary aircraft in the U.S. Military inventory. The ASU-GO is comprised of parts built to U.S. military standards (MIL-STD), supporting high stress loads and temperatures related to flight conditions. ASU-GO features:
Lighter Frame – Block style 1-inch aluminum frame, overlap, with close-tolerance high-torque fasteners
Rapid Maintenance – Allows for easy in-field maintenance should it be required
High MTBF – Mean Time Between Failure exponentially increases with ground use
Compliant with MIL, AHP, ARP
Convenience and Simplicity
Our ASU-GO is the most compact air start unit available with the smallest footprint, measuring 52"L x 25"W x 25"H (132cm L x 63.5cm W x 63.5cm H) and is completely detachable from its secured 4-wheel transporter. The hangar-friendly unit is also the lightest ASU available:
Empty weight: 487 lbs. / 221 kg
Fueled weight: 547 lbs. / 248 kg
Designed with integrated lifting handles, the ASU-GO does not require a tow vehicle. It can be easily transported to and from a HUMVEE or rotary aircraft and back to its transporter with only four people. The unit uses a variety of available fuels:
Multi-mission Support
The simplicity of operation, reduced maintenance, and maximum portability make the Epsilon Systems ASU-GO the perfect ground support equipment for any mission platform:
Downed Aircraft Recovery Team (DART)
Search & Rescue (SAR)
Expeditionary operations
Helicopter-based Emergency Medical Services (HEMS)
Resupply
Proven Performance
Highly portable, simple to use and low maintenance, ASU-GO is the perfect support equipment for rotary mission platforms.
Proven interoperability; tested by NASA and aircraft manufacturers
Globally fielded with military, government and public-sector customers
Platforms include:
AW101 SAR helicopter
APACHE
HH60
MH60
Sikorsky Corp. H-60/S-70, S-76, and S-92 helicopters worldwide
VH-71 Presidential Helicopter
Aircraft Oxygen Servicing Carts (O2 Carts)
Selected as the prime contractor, Epsilon Systems assisted in design and took the lead role in assembly and testing of 246 Aircraft Oxygen Servicing Carts in support of NAVAIR between 2005-2007. The carts are three-wheeled trailer mounted units designed for use at U.S. Navy and Marine Corps facilities ashore and afloat to replenish aircraft gaseous oxygen systems, emergency oxygen systems and bailout bottles and seat pans.